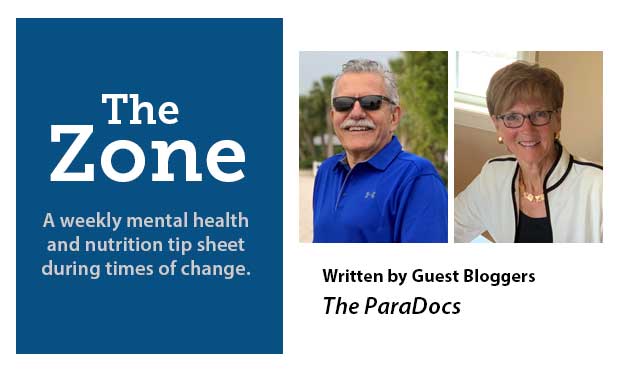 As we ease into summer, how do we hold onto familiar traditions? Summer cookouts, beach trips, family travel – all our familiar activities and all our plans are thrown into question.
In Volume 9 of this guest series, Psychotherapist, Dr. Francis L. Battisti and Nutritionist, Dr. Helen Battisti help us gain clarity in how to plan our summer activities while keeping everyone safe.
For over 10 years, they have worked closely with us on aging concerns and have presented many webinars and in-person workshops.Their newsletter, The Zone, is a weekly mental health and nutrition tip sheet during times of change.
---
Memorial Day is the time to remember and honor those who have died while serving in the American military forces. It's also the unofficial start to summer which is historically a time of excitement and anticipation. This year, Memorial Day and the unofficial start to summer find themselves in a changed environment. While we can still be experiencing excitement and anticipation, we can also experience confusion about how this summer will play out.
We may be asking ourselves, "How do I hold on to the season of summer when I'm missing the certainty of choices that I believed I'd always have; summer cookouts, family vacations or traveling." Instead, this assumed certainty can be replaced by a confusion of thinking about activities for the summer, which can range from planning completely new activities, modifying traditional activities to accommodate current realities or, not doing anything. Whatever choices we make, neither are right or wrong, as long we stay true to ourselves. The key to reaching this truth and deciding what actions we'll take is founded in an awareness of our thoughts and feelings. How we choose to manifest this awareness will impact ourselves and our loved ones.
As we continue to make impactful decisions, through a lens of confusion, we may be able to gain some clarity in where we are headed.
Key Takeaways
Memorial Day 2020 is occurring in a different environment.
Memorial Day is still a time to remember and honor those who have died while serving in the American military forces.
While we may be experiencing anticipation and excitement for the new season of summer, we may also feel confusion.
Acting through the lens of confusion can bring some clarity for future choices.
Best Practices
Spending time discovering and understanding why our choices may be different than others.
Reflecting on what is important for you to accomplish during the summer.
Taking advantage of the summer season to connect in old and new ways with nature, loved ones and self.
Things to Limit
Thinking that there is only one way to do something.
Trying to convince others to make changes that they are not either comfortable with, prepared for, or ready to adopt.
Making too many changes at one time.
In closing, as we choose to celebrate differently, we can also focus on our future path. While we have no guarantees of what lies ahead of us, our energies and insights will help clear the way.
Quote of the Week
"In the confusion we stay with each other, happy to be together, speaking without uttering a single word." – Walt Whitman
---
The paraDocs are Dr. Francis L. Battisti, PhD, Psychotherapist, Distinguished Psychology Professor and former Executive V.P. and Chief Academic Officer and, Dr. Helen E. Battisti, PhD. Registered Dietitian and Nutritionist.
We have developed The ZONE, because that is exactly where you want to be during this pandemic. A place of focused attention to doing exactly what needs to be done to get you to where you need to be. The purpose of The Zone is to provide a weekly mental-health and nutrition tip-sheet during times of change.
---
If you would like to subscribe to The Zone, please email info@avilainstitute.org and we will get you on the mailing list.