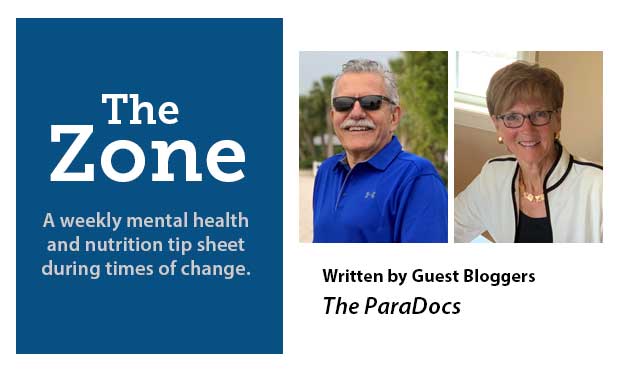 As stay-at-home orders stretch on, you might be feeling a cascade of feelings ranging from grief, anxiety, fear, anger, and loneliness.
In Volume 3 of this guest series, Psychotherapist, Dr. Francis L. Battisti, and Nutritionist, Dr. Helen Battisti guide us in honoring our feelings and using them as a path to self-discovery and healing.
For over 10 years, they have worked closely with us on aging concerns and have presented many webinars and in-person workshops.  Their newsletter, The Zone, is a weekly mental health and nutrition tip sheet during times of change.
---
As we move into week five of the Pandemic, with the experts suggesting that the stay at home directive be extended for longer than we expected, you may find yourself feeling angry, fearful, confused and generally stressed-out. While these feelings are an understandable natural consequence to the losses that we have been experiencing, how we address this cascade of feelings is important to our long term personal well-being.
The tendency to ask questions like "What if?", and "If only?", will only serve to place us in a downward spiral of more anger, confusion and exhaustion, leading to choosing potentially disastrous personal behaviors. Rather, beginning to experience the hurt and fear that can be at the base of our anger and talking it out, journaling and sharing it within a trusting environment is key to the ongoing healing process
Key Takeaways
Feelings are valid, real and understandable.
How we address our feelings will define our healing process.
With the new normal, the unexpected is expected.
How we manage our stress will impact our bodies and minds on a long-term basis.
Best Practices
Begin to experience and explore the anger to get to underlying feelings of hurt and fear.
Continue to nourish your body as best you can. Including more foods rich in vitamin C such as baked potatoes (with skins), broccoli, oranges, tomatoes, kale, kiwi, and brussel sprouts is one-way to begin.
Continue to journal through writing, music, dance, art and other unique expressions.
Things to Limit
Excesses, such as alcohol, drugs, and junk food.
Excessive screen time.
Limit the intake of the constant roar of negativity and how awful this all is and that it will never get better
Quote of the Week
"I refuse to entertain negativity. Life is too big and time is too short to get caught up in empty drama."
---
The paraDocs are Dr. Francis L. Battisti, PhD, Psychotherapist, Distinguished Psychology Professor and former Executive V.P. and Chief Academic Officer and, Dr. Helen E. Battisti, PhD. Registered Dietitian and Nutritionist.
We have developed The ZONE, because that is exactly where you want to be during this pandemic. A place of focused attention to doing exactly what needs to be done to get you to where you need to be. The purpose of The Zone is to provide a weekly mental-health and nutrition tip-sheet during times of change.
---
If you would like to subscribe to The Zone, please email info@avilainstitute.org and we will get you on the mailing list.